Resources
Get the Screen Porch Planning Worksheet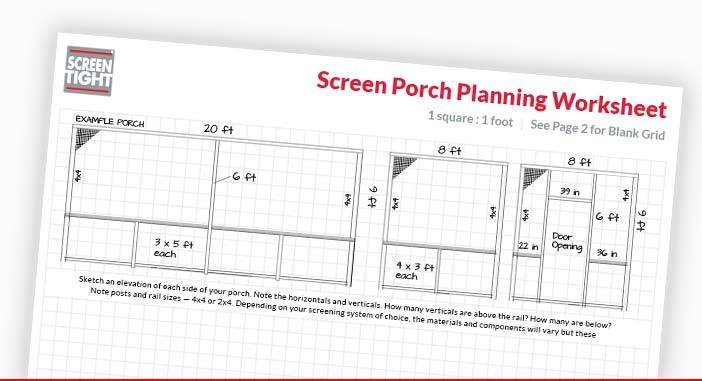 If you're wondering how to screen a porch, start with our printable Screen Porch Planning Worksheet.
---
Which system is right for you?
---
| | |
| --- | --- |
| Screen Tight System | Mini Track System |
| | |
---
Screening System Facts & FAQ
What types of screens can I use?
Fiberglass screen is recommended for our screening systems except MeshGuard. The MeshGuard system requires a special polyester screen for infill usage. Aluminium screens are not compatible with Fast Track or Mini Track systems. Super Screen is also available.
What size spline do I need?
For Original Screen Tight we recommend spline sizes that are .175-in for fiberglass screen and .160-in for aluminum screen. MINITrack uses a square spline and FASTtrack and Screen Wall use flat spline.
How large an opening can I screen?
All of our systems hold screens secure and tight for standard size porch openings. If you have large openings — over 60-ft without a post — the screen may be slightly looser but the system will still work. Our Screen Wall is able to handle the largest openings with the tightest screen.
What lengths do the screening systems come in?
8-ft lengths are standard. For some systems, longer or custom lengths can special ordered.
What colors are available?
The caps for the original Screen Tight system and MeshGuard are available in White, Grey, Beige and Brown. The aluminum track products are available in white and powder coated bronze — which is almost black. Screen Block and Screen Wall are available in white only.
Can I paint parts of screening systems?
Although the parts of our screening systems can technically be painted, it is not recommended. To ensure, the lowest maintenance screen porch, it's recommended that you choose one of our stock colors (see above for colors available).
For all of our screening systems, you will need a drill or power screwdriver to install the base; snips or shears to trim the base and cap; a standard utility knife to trim the screen; and a screening tool like our RollerKnife to install the screen. For the original Screen Tight system you will also and a non-marking rubber mallet to snap on the cap. For framing systems and aluminum tracks, it's recommended to have a chop saw to cut to size.
What happens if part of my screen comes loose?
All of our systems were created with easy repairs and maintenance in mind. You can easily change out the screen or re-screen as needed. Most of our systems use a spline method of screening which every window manufacturer in the country uses. Re-screening is easy. Simply roll back into place with spline and a screen roller.
No. Everything is straight cut. No miters.
Can FASTTrack be installed on concrete posts?
Yes, FASTTrack can be attached to concrete. You would simply use concrete screws to attach mounting clips.
Can I install wood lattice instead of the vinyl Screen Tight cap?
Yes you can install stained or painted wood lattice using nails or fasteners of your choosing. If you are wanting black caps, this is the preferred method to achieve the look.
Can I mount Screen Tight on the inside of the porch?
Yes. Screen Tight and MeshGuard can mount two ways - facing the interior or exterior of your porch.
How many screws do I need to install Screen Tight?
You will need 12 screws per 8 foot length. Add a screw 2" from each end and in each pre-punched clot. The screen will pull very tight so it's important to put a screw in each of the pre-punched slots so that the base is securely attached to the wood framing.
---
Can Screen Wall attach to masonry?
Yes, the Screen Wall system perimeter 1" x 2' pieces can attach to concrete and or masonry by using standard masonry screws.
Can you use Screen Wall and MeshGuard together?
No, Screen Wall and MeshGuard are two different systems. MeshGuard is only approved to attach to wood framing.
Is the Screen Wall post component required?
No. Depending on your design, you could technically complete your job using only perimeter components.
How wide of an area can I span with Screen Wall?
The bigger the better. If you don't live in a high wind area you can go 100 square feet.
---